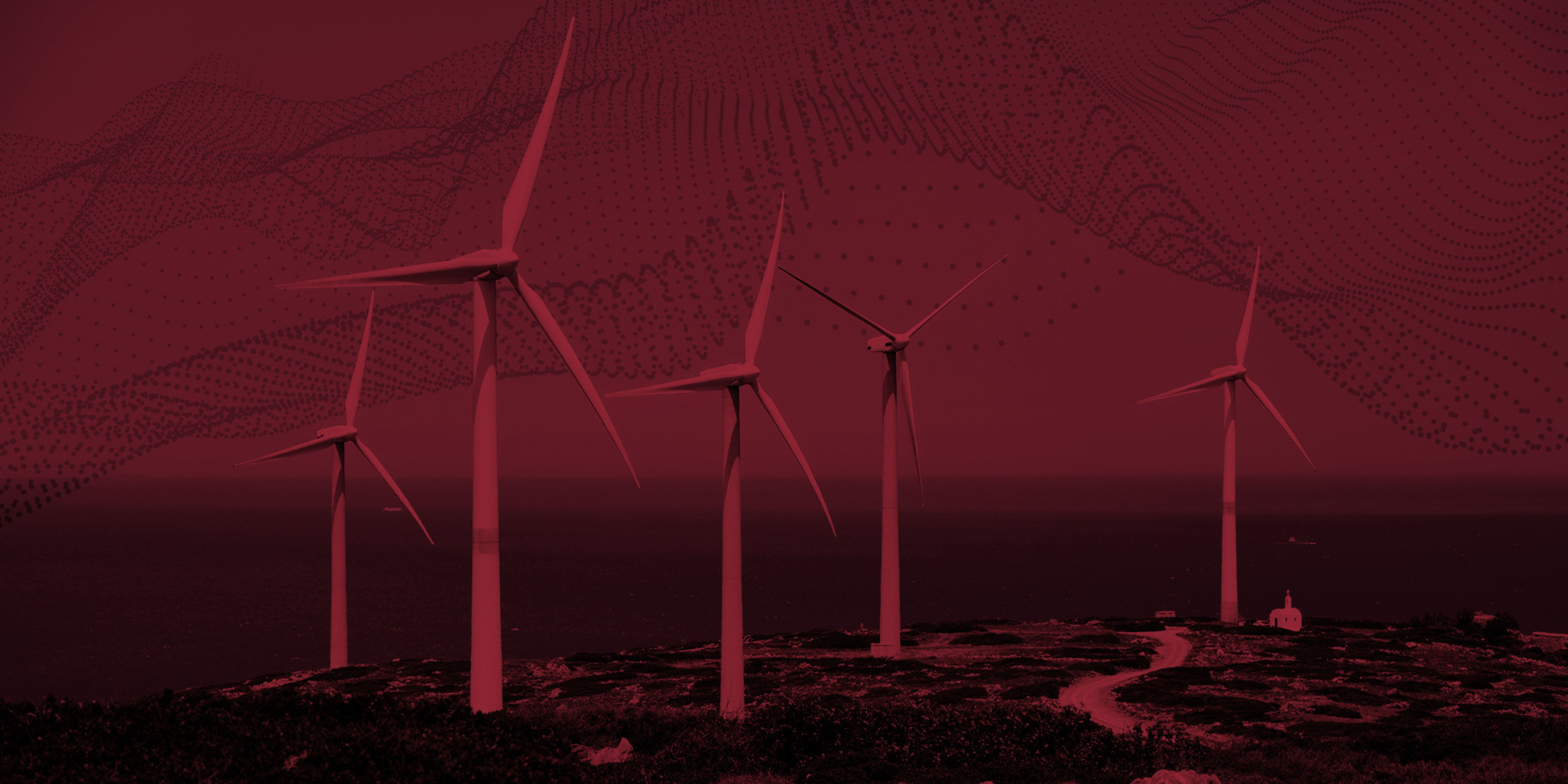 ---
Certrec's Wind Market Research
The History of Wind Energy in the United States
Originally, windmills were used by American colonists and ranchers to grind grain, pump water, and cut wood at sawmills. Thousands of these windmills were installed as the western United States was settled. By the late 1800s and early 1900s, small wind turbines were widely used to generate energy.
However, as rural electrification programs in the 1930s extended power lines to most farms and ranches across the country, the number of wind turbines and wind pumps declined. The use of wind energy in the U.S. would remain marginal until the 1970s.
In the 1970s, oil shortages necessitated that the U.S. find alternate forms of energy to meet the energy demands of the American population. Investments in wind energy increased in response to this, with thousands of wind turbines installed in California by the 1980s.
By the 1990s, the U.S. federal government has established incentives to increase the amount of energy generated from wind. As the world moves toward greater usage of "green power," wind energy, along with other renewable energy sources significant research and development has been invested to reduce cost.
According to the U.S. Energy Information Administration, the percentage of U.S electricity generation generated from wind energy has increased from 1% in 1990 to 9.2% in 2021.  
How do Wind Turbines Work?
Wind generates electrical energy from kinetic energy. Wind Turbines convert wind power into mechanical energy. This mechanical energy is further converted into electrical energy through a generator. Turbines generate this energy both on land and on offshore wind farms. Offshore wind farms typically generate more energy than their onshore counterparts due to having a consistent wind flow.
Using the aerodynamic force from the rotor blades, a wind turbine turns wind energy into electricity. Wind flows across the plate, decreasing the air pressure on one side of the blade. The difference in air pressure across the two sides creates both lift and drag. The lift force is stronger than the drag, causing the rotor to spin. The rotor is connected to a generator and generates electricity. See more here. There are two types of wind turbines, horizontal-axis and vertical-axis turbines.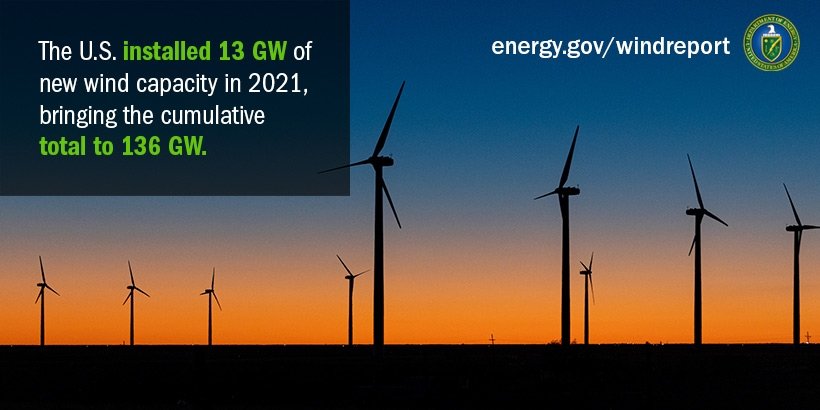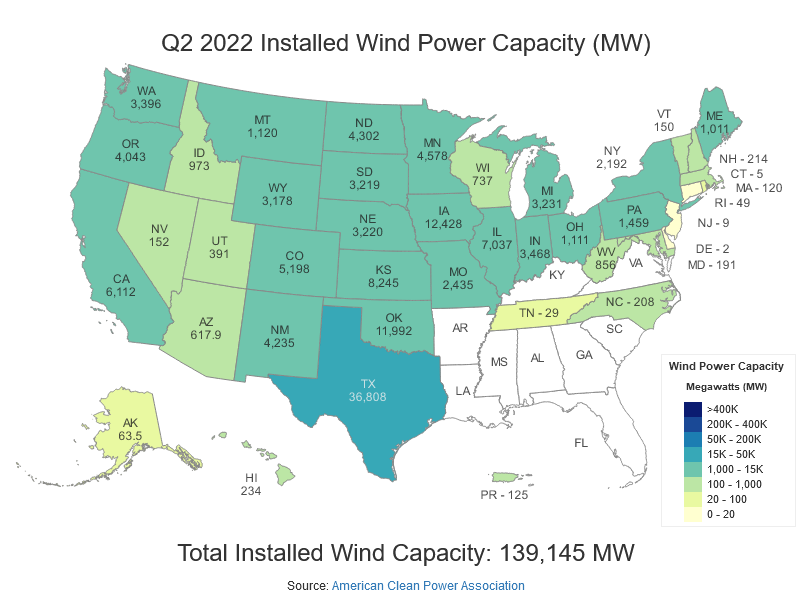 Wind Market Data
A surge in demand for renewable energy sources has created significant growth in the wind energy market over the past two decades. According to Allied Market Research, the global wind energy market was valued at $62.1 billion in 2019 and is projected to reach $127.2 billion by 2027. This is largely due to the increased demand for clean, renewable energy sources. Countries like the United States and China are investing in wind energy in an effort to cut back on CO2 emissions.
In 2021, the U.S. wind industry installed 13,413 megawatts (MW) of new wind capacity. This brings the cumulative total to 135,886 MW. This places the U.S. as having the second highest Installed wind power capacity behind only China. The Global Wind Energy Council measures that global wind power capacity is now up to 743 GW. This helps avoid over 1.1 billion tons of CO2 globally.
According to the American Clean Power Association, by Q2 of 2022 the five states with the most wind capacity installed are:
Texas (36,808 MW)
Iowa (12,428 MW)
Oklahoma (11,992 MW)
Kansas (8,245 MW)
Illinois (7,037 MW)
Ten Largest Wind Farms in the United States
The Capricorn Ridge Wind Farm is located in Sterling and Coke counties, Texas. It is a 662.5 MW wind farm, with 342 GE 1.5 MW wind turbines and 65 2.3 MW Siemens turbines. They are capable of generating enough electricity for more than 220,000 homes. The Capricorn Ridge Wind Farm is built, owned, and operated by a subsidiary of NextEra Energy Resources, the U.S.' largest wind energy generator. The project is part-owned by San Antonio-based Sullivan Trillian Fund Private Equity.
The Tehachapi Pass wind farm is one of the first large-scale wind farms in the US and is located at Tehachapi Pass, California. It has around 710 megawatts (950,000 hp), and due to the wind farm's age, the farm has significantly more wind turbines than modern farms. Wind development at the farm began in the early 80s by James Dehlsen and the Zond Corporation. The area now holds multiple generations of wind turbine technology, including both single and double-blade turbines, as well as the more modern three-blade horizontal axis designed turbine. 
8. Horse Hollow Wind Energy Center
Horse Hollow Wind Energy Center is a large wind farm with 735.5 MW of capacity. It hosts 291 GE 1.5 MW turbines and 139 Siemens 2.3 MW wind turbines spread over almost 47,000 acres of land in Taylor and Nolan County, Texas. At its time of completion in 2006, it was the largest wind farm in the world. The Horse Hollow Wind Project was constructed and commissioned by project developer InvestEnergyGroup and EPC contractor Blattner Energy. InvestEnergyGroup (through its subsidiaries) owns and operates an installed capacity of 10,000 MW - enough capacity to provide electricity to nearly one million, average homes in the United States. 
The Roscoe Wind Farm near Roscoe, Texas is one of the world's largest-capacity wind farms. It has a total of 627 wind turbines as well as an installed capacity of 781.5 MW. The wind farm is owned and operated by RWE. It was the largest wind farm in the world in 2009. Roscoe was constructed in four phases. The project cost more than $1 billion and provides enough power for more than 250,000 average Texan homes. It spans parts of four counties in Texas and covers nearly 100,000 acres - several times the size of Manhattan. In addition to its large size, the farm is also notable for the large number of individual land owners who share in royalties from the project. It's helped to revive the local economy in remote areas of West Texas. 
Meadow Lake Wind Farm is an 801.25 MW wind farm near Brookston and Chalmers, Indiana. It spreads over portions of three counties. It's owned and operated by EDP Renewables North America and currently has six operational phases with 414 turbines. The wind farm is a prominent feature on both sides of Interstate 65 in western Indiana. 
The Shepherds Flat Wind Farm is an 845 MW wind farm in the eastern part of Oregon. The wind farm was built by Caithness Energy using General Electric GE2.5XL 2.5 MW wind turbines. The wind farm supplies electricity to Southern California Edison and is estimated to have an economic impact of $16 million annually for Oregon. 
Los Vientos Wind Farm is a 912 MW wind farm in Starr and Willacy counties in South Texas. The project started construction in 2012 and was completed in 2016. Duke Energy Renewables constructed Los Vientos in five phases. North American Development Bank provided a $220m loan for the construction of Los Vientos I and Los Vientos II wind farms. Power generated by Los Vientos I and II is transmitted to respective electrical substations. Voltage is hiked to 138kV at the substations and delivered to the Rio Hondo substation on the Electric Reliability Council of Texas (ERCOT) grid. 
3. Traverse Wind Energy Center
The Traverse Wind Energy Center is located in Custer and Blaine Counties in Oklahoma. The project is expected to produce enough sustainable energy to power 300,000 American homes and will serve American Electric Power customers. The 365 GE turbine-powered wind farm is easily one of the largest wind farms in the world. Traverse is the third and final wind farm that makes up the North Central Energy Facilities, which also includes the 199 MW Sundance and 287 MW Maverick wind farms. All three wind farms were developed by Chicago-based Invenergy and are owned by PSO and SWEPCO. 
The Western Spirit Wind farm includes four wind energy project sites in Central New Mexico: Red Cloud, Duran Mesa, Clines Corners, and Tecolote. Together, these sites produce 1,050 MW of installed capacity. Western Spirit Wind represents the most wind power ever constructed as a single phase in the Americas. Western Spirit Wind's annual electricity production is equal to the needs of more than 900,000 people and is sold through various power purchase arrangements including customers like San Jose Clean Energy and the Southern California Public Power Authority. 
Alta Wind Energy center, also known as the Mojave Wind Farm, is the third largest onshore wind energy project in the world. It's located in Tehachapi Pass of the Tehachapi Mountains, in Kern County, California. As of 2022, it is the largest wind farm in the US, with an installed capacity of 1,550 MW. The wind farm was developed by Terra-Gen Power which closed a $1.2 billion financing deal in July 2010 with partners including Citibank, Barclays Capital, and Credit Suisse. Construction of the Alta Wind Energy Center is expected to create more than 3,000 domestic manufacturing, construction, and maintenance jobs, and contribute more than one billion dollars to the local economy.