Putting fatigue-related issues to rest
This game-changing solution, developed in cooperation with fatigue rule experts, yields significant money savings, reduces violations, and acts to avoid fatigue-related issues.
FRMS addresses a multitude of complaints aired by thousands of site workers, supervisors, and program managers across the commercial nuclear industry. It is user friendly, provides immediate feedback on planned work schedules, and saves you time, money, and frustration.
Proven Friendly Interface – Short Learning Curve
Web-Based Platform – No Software to be Installed
Scheduling in Seconds not Hours
Cross-station Resource Sharing
Fast, Fast, Fast – Everything is Calculated in Real Time
Accessible Anywhere with Internet Access
Intuitive for Ease of use at all Permission Levels
Reports are Accurately Computed in Seconds
Scheduling Controls Prevent Violations
Allows Quick Determination of Worker Availability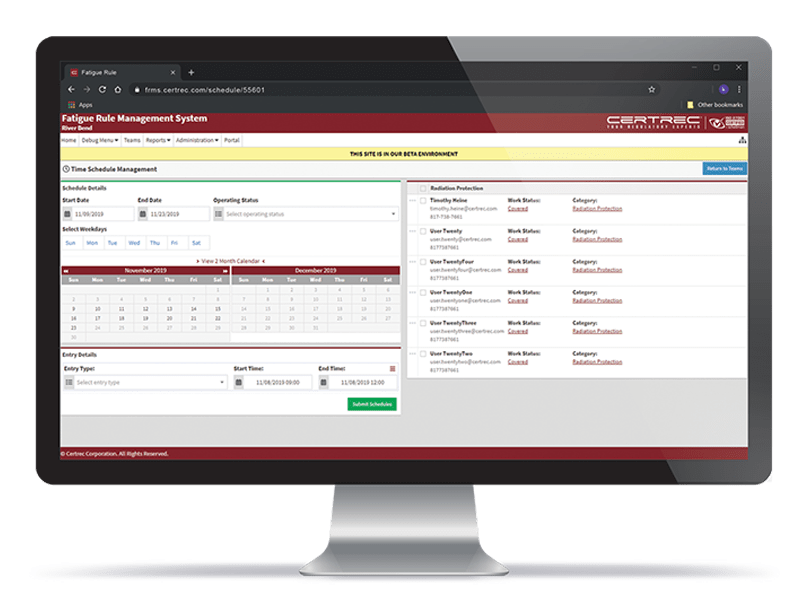 "Everything is better, from maintenance, site speed, accessibility and the support team. " Lee Marabella of the Public Service Enterprise Group (PSEG)