Putting fatigue-related issues to rest
Certrec's FRMS creates a common, modernized platform to help nuclear power plants comply with the Nuclear Regulatory Commission's 10 CFR Part 26 fatigue rule requirements.
This game-changing solution, developed in cooperation with fatigue rule experts, yields significant money savings, reduces violations, and acts to avoid fatigue-related issues.
FRMS addresses a multitude of complaints aired by thousands of site workers, supervisors, and program managers across the commercial nuclear industry. It is user friendly, provides immediate feedback on planned work schedules, and saves you time, money, and frustration.
A Modernized Approach to Complying with Fatigue Rule Requirements
Before FRMS, the existing software was difficult to use, outdated, and had little to no investment made in its future roadmap. With almost two years of actual run time in the industry, Certrec's FRMS has proven to be everything it was designed to be: reliable, fast, easy to use, and accurate.
Proven friendly interface – easy learning
Web-based platform – no software to install
Scheduling in seconds – not hours
Cross-station resource sharing
Fast, fast, fast – everything is calculated in real time
Accessible anywhere with internet access
Intuitive for ease of use at all permission levels
Reports are accurate and computed in seconds
Scheduling controls prevent violations
Quick determination of worker availability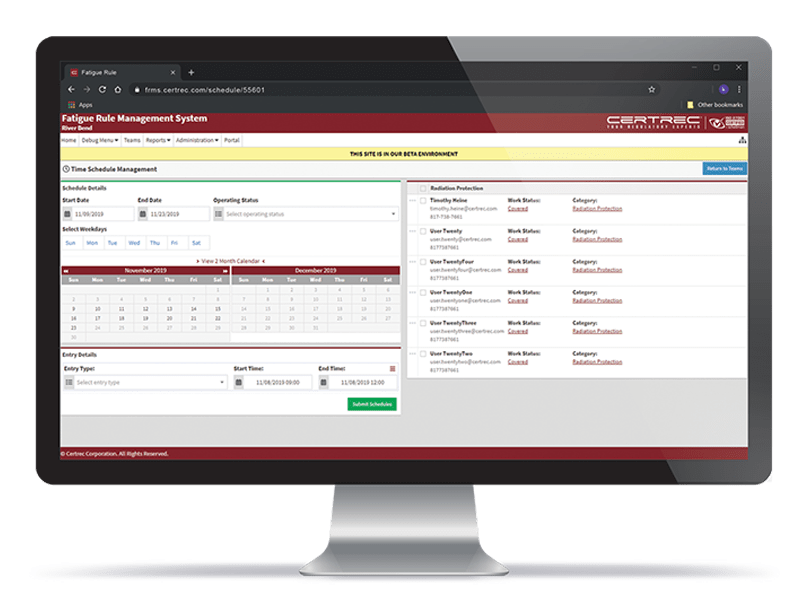 In 2023, almost 20 percent of nuclear units in the United States use Certrec's FRMS.
A Commitment to User Experience
Certrec is dedicated to ensuring a quality customer experience. Each year Certrec holds a user's group meeting to gather feedback and to discuss continued feature improvements. The recent successful implementation of FRMS v2.0  included recommendations from user feedback to continuously improve the end user experience.
"FRMS is user-friendly. From the training videos, FAQs, support response times, and
the ability to mass schedule multiple days."
White Paper
Managing NRC's Fatigue Rule Compliance: Certrec's Innovative FRMS Solution for the Nuclear Industry

The complexity of managing fatigue rule compliance and reliance on outdated tracking systems poses significant challenges for nuclear plant operators. To tackle this challenge, Certrec has developed an innovative software solution, the Fatigue Rule Management System (FRMS), to modernize and simplify fatigue rule compliance.
Download this white paper to see how FRMS can help your nuclear power plant save time, money, and comply with the NRC's fatigue rule requirements.
"Everything is better, from maintenance, site speed, accessibility and the support team. " Lee Marabella of the Public Service Enterprise Group (PSEG)