Stay up to date on critical industry information designed to help your company stay compliant and knowledgeable. RegSource® is SaaS enabled with anytime, anywhere access and can keep your team well-informed, saving hours of time by curating only the relevant, important information. RegSource® solutions are updated daily and are monitored by a dedicated team of Certrec compliance experts.
Don't be surprised. Stay ahead of the information tsunami.
Stay current with NERC compliance information
Locate documents quickly and efficiently. Save time, money and frustration.
Solves the "too much info/can't find the info" issue.
Daily emails with important updates and the ability to save key documents (Pro or above).
A SaaS enabled application with easy, 24x7 access from anywhere.
Try out RegSource, the energy industry's most trusted source of regulatory information
RegSource® keeps NERC compliance teams up to date with strategic events via targeted, curated content:
Daily industry SME reviews of industry information to curate relevant regulatory information
Daily Smart Notices call out key events, information, and emerging trends
Succinct summaries highlighting implications and action needed
Heads-up webinars on items needing timely action
RegSource® Data repository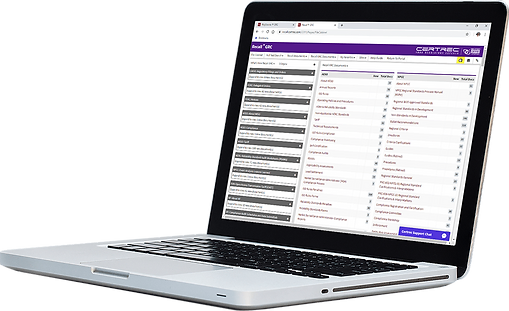 RegSource® helps you save and track important documents in a powerful data repository(Pro and above only):
High-value document sets, including documents from FERC, NERC, all regional entities, and all ISO/RTOs
Inventory of all documents in the library and all new documents recently added
Fully text searchable across multiple document categories
Filtering capability by key fields
Exportable document lists with links and savable searches