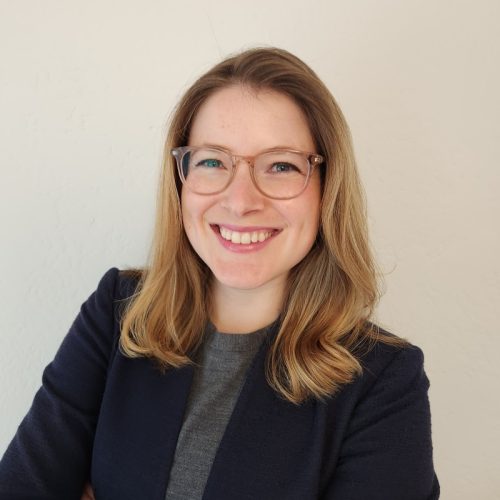 Jessica Eckdish is the Vice President, Legislation & Federal Affairs with the BlueGreen Alliance, where she directs BGA's federal legislative, policy, and partnerships efforts in Washington, D.C. This includes leading the organization's work on climate, energy, and infrastructure issues.
Jessica joined the BlueGreen Alliance in 2016 from the Sierra Club. As Washington Representative, she managed the Club's legislative and administrative advocacy to secure and defend strong public health protections. This work included leading efforts to secure methane emission standards for the oil and gas sector and work on a range of issues and projects, including securing federal clean air and water protections.
She holds a Bachelor of Arts in Political Science and International Relations from UC Santa Barbara and a Master of Arts in Global Environmental Policy from the School of International Service at American University.
Certrec Sentinel: According to the estimates of the latest Preliminary Monthly Electric Generator Inventory of the U.S. Energy Information Administration (EIA), power plant owners and developers are planning to increase utility-scale battery storage capacity in the United States to around 30 gigawatts (GW) by the end of 2025. This means that the U.S. battery storage capacity will triple in the next few years. 
How is the Biden-Harris administration working to ensure that our electricity grid is resilient and sustainable, particularly given estimates showing our electricity is increasingly coming from renewable energy, for example, solar and wind generation? 
Jessica Eckdish: The world's leading scientific organizations have been unambiguous that climate change is a dire and urgent threat, and the longer we delay, the stronger the action required. Over the last decade, we have witnessed the worsening impacts a changing climate has on our communities. To avoid the catastrophic consequences of climate change, we must ensure rapid greenhouse gas emissions reductions—based on the latest science and in line with our fair share—to put America on a pathway to reduce its emissions to net zero by 2050. Critical to achieving this goal is the build-out of transmission and other infrastructure necessary to make the shift to a net zero economy. 
Today's network of transmission and distribution equipment still includes components from over 100 years ago, designed to deliver electricity from centralized fossil fuel-fired power plants. Varying ages, conditions, geographic locations, and lack of capacity make it difficult to provide reliable power. At the same time, significantly higher loads, severe weather, and increased transmission network complexity can all cause power disruptions and damages to electric equipment. Unfortunately, as climate change gets worse, so does the problem. More than half of major power outages between 2000 and 2016 were caused by natural hazards such as hurricanes, heat waves, and wildfires. 
In addition to the demand to update our existing transmission, we must rapidly expand transmission build-out. Transmission constraints create a huge bottleneck for the build-out of clean energy—a current project generation proposed queue of 930 gigawatts of clean energy waiting to be connected to the grid. To develop a resilient, nationwide grid, connecting our nation's transmission systems between regional grids, distributed generation assets, and load centers must be increased drastically. This also includes preparing and building infrastructure to support vast amounts of future offshore wind deployment. 
Investments included in the Bipartisan Infrastructure Law (BIL) and Inflation Reduction Act (IRA) will support the build-out of infrastructure necessary to make the shift to a net zero economy. The BIL invested $2.5 billion for high-capacity and interregional transmission lines through a new Transmission Facilitation Program, which will make these investments through competitive loans and by leveraging private/public partnerships. High-capacity transmission lines are the missing link for a strong and resilient grid, however. These lines will connect existing and new clean energy projects across the country with all corners of the grid to ensure that clean energy isn't going to waste. The Inflation Reduction Act builds on the $2.5 billion included in the BIL for transmission build-out and provides an additional $2 billion for new construction of those essential high-capacity transmission lines. The IRA also includes $760 million in grants to facilitate the siting of interstate transmission lines, and $100 million for offshore wind transmission planning. 
In addition, the BIL invests $10.5 billion by way of the Grid Resiliency and Innovation Partnership (GRIP) Program, which supports the development and deployment of advanced technologies that support high-capacity transmission networks, funds resiliency efforts for states and localities to fortify existing power infrastructure, and invests in innovative grid technology. Further, the BIL invests $355 million for energy storage demonstration projects. The Inflation Reduction Act also provides an additional $40 billion of loan authority to the Title 17 Innovative Clean Energy Loan Guarantee Program, which includes solar, energy storage, transmission, and wind energy, as well as a range of clean energy tax credits, including for battery storage. 
Finally, both bills include a range of investments to ensure our infrastructure—including our grid—is resilient in the face of growing climate impacts. As the risks from global climate change intensify, the consequences for our environment and communities across the country will also intensify. Heavier precipitation, more-frequent extreme weather events, and rising sea levels all contribute to increased flooding events that are more severe, intense, and damaging to livelihoods, property, and communities. For example, the BIL provides a total of $1 billion over 5 years for the Federal Emergency Management Agency's (FEMA) Building Resilient Infrastructure and Communities (BRIC) program. This program provides grants to states, local, tribal, and territorial governments for hazard mitigation projects, helping communities to build resilience in the face of climate-related impacts. In addition to reducing the risk communities face from disasters and natural hazards, this program provides support for community capability and capacity-building, ensuring communities are resilient for future crises and climate change. The BIL also includes $3.5 billion in Flood Mitigation Assistance (FMA) grants, a program that provides grants to states, local communities, tribes, and territories to reduce or eliminate flood damage risk for buildings, manufactured homes, and other structures, protecting lives and property from further flood damage. Investing in transmission and grid infrastructure is an excellent opportunity to put people to work in the clean economy. Most of the jobs associated with transmission construction, operations, and maintenance are already good union jobs. New federal investment going towards the upgrading or construction of new lines can continue to reinforce and expand these high-road, family-sustaining jobs throughout the country. That will happen by strategically targeting funding for projects utilizing high-road labor standards, such as PLAs. Additionally, investments passed in the Inflation Reduction Act can support good jobs across the supply chain through the utilization of domestically sourced materials for the construction of high-powered transmission lines. 
Certrec Sentinel: While lead-acid batteries inside most gas-powered vehicles are roughly the size of a toaster oven, lithium-ion batteries in electric vehicles weigh around 900 pounds and contain toxic substances like nickel, cobalt, lithium, and manganese. These batteries do not last forever and need to be changed eventually. 
What are the plans to meet the growing demand for EVs, including batteries and the critical minerals that go into them. And because batteries do not last a lifetime, what are the plans to recycle used batteries or retool the process of critical minerals needed in these batteries? 
Jessica Eckdish: In the United States, the transportation sector represents the single largest source of climate-warming greenhouse gas emissions—surpassing industrial emissions and emissions from energy generation, residential and commercial buildings, and the agricultural sector. While reducing emissions from vehicles must not be the only strategy we pursue in our efforts to decarbonize our mobility systems, we cannot meet our climate goals without a significant transition to cleaner cars and trucks. The Inflation Reduction Act applies a whole-of-government approach to addressing this source of greenhouse gas and health-harming emissions while also creating and preserving good union jobs, supporting and growing a domestic supply chain for vehicle components and technologies, and improving mobility and air quality in our neighborhoods. 
The Inflation Reduction Act contains clean vehicle tax credits for new and used car buyers—commercial fleets included—and puts ambitious-but-achievable requirements on qualifying vehicles' critical mineral and battery supply chains. It brings those supply chain requirements within reach for car and truck manufacturers—who have already made significant commitments to onshoring their battery supply chains—through major investments in the domestic auto manufacturing supply chain. Finally, it provides direct grants to a range of heavy-duty fleets to replace their existing vehicles—including transit and school buses, logistics trucks, drayage vehicles, and U.S. Postal Service (USPS) delivery vans—with zero emission-alternatives. 
The clean vehicle provisions in the Inflation Reduction Act can be divided into three main categories: tax credits, grants and loans for clean vehicle manufacturers, and grants for heavy-duty fleet electrification. 
Clean Vehicle Related Tax Credits: The updated Clean Vehicle Tax Credit will shape the future of the global auto manufacturing sector. The credit brings down the cost of buying battery and fuel cell EVs by up to $7,500 while incentivizing the establishment of a complete and resilient supply chain for essential battery components in North America. It also ensures that the critical minerals comprising these batteries are not sourced from countries relying on child and forced labor, with whom ongoing political tensions risk significant clean vehicle and battery supply chain bottlenecks.

The Commercial Clean Vehicle Credit aids fleets to purchase clean light- and heavy-duty vehicles by defraying the incremental upfront cost of purchasing a clean vehicle versus an internal combustion engine (ICE) alternative—an essential provision for communities disproportionately impacted by the local air pollutants emitted by diesel-fueled trucks, delivery vans, and work trucks.

Lastly, the Alternative Fueling Property Credit helps individuals and businesses install EV charging and alternative fueling equipment to supplement the significant investments made by the BIL in a nationwide EV charging network.

Clean Vehicle Manufacturing Investments: The Advanced Technology Vehicle Manufacturing (ATVM) Loan Program received an additional $3 billion, which will unlock billions of dollars in private capital for manufacturing facilities building the technology we need to achieve climate goals and reduce emissions from all transportation sectors—from light-duty cars to airplanes.

The Domestic Manufacturing Conversion Grants Program also supports the auto manufacturing sector, but is targeted to provide direct grants to recently closed or at-risk facilities. The Inflation Reduction Act provides $2 billion for this program—which will fund the retooling efforts needed to transform production lines that were building ICE vehicles and their parts into production lines building the clean vehicles of the future.

The IRA also establishes several tax credits to support the build-out of manufacturing facilities, including battery manufacturers and critical minerals. In particular, the law establishes a new manufacturing production tax credit (45X) worth more than $30 billion to support the expansion of solar, wind, and battery manufacturing and critical minerals processing. These four sectors warrant larger, sustained investments due to a significant lack of domestic manufacturing capacity, stiff global competition, and recent disruptions. Critically, manufacturers in these four sectors have a "direct pay" option that will allow them to take advantage of the new tax credit for five years without relying on Wall Street financing, which is typically unavailable for manufacturing investments. This new tax credit to fill clean technology supply chain gaps will create more than 560,000 good jobs over the next decade.

Medium & Heavy Duty Fleet Electrification: The Inflation Reduction Act allocates a total of $7 billion through several programs to reduce local air pollutants and climate-warming greenhouse gas emissions from heavy-duty vehicles. It takes an expansive approach to heavy-duty vehicle decarbonization and $1 billion in grants to the U.S. Environmental Protection Agency (EPA) to encourage the private sector to electrify Class 6 and 7 trucks, and $3 billion to EPA to reduce emissions from ports, including through the purchase and deployment of zero-emission drayage vehicles. The law also allocates $3 billion to electrify the USPS delivery fleet.
Additionally, the BIL included a range of investments aimed at bolstering the domestic supply chain for EVs. It included an expansion of the Advanced Technology Vehicles Manufacturing (ATVM) Loan program to cover medium- and heavy-duty vehicles. Similar to the 48C tax credit for clean technology manufacturing and industrial emissions reduction investment targeted to coal communities, the expansion includes a $750 million grant program and a significant investment in battery and battery component research and development, manufacturing, and recycling. These investments are an excellent step to retool U.S. automotive manufacturing to build the EV technology of the future in today's plants and communities.
Certrec Sentinel: There has been controversy over solar power and wind farms hurting wildlife and the environment. For example, ill-planned and poorly operated wind energy facilities can harm birds, while a solar farm requires a large piece of land, which is home to species that are important to the ecosystem. In most cases, these species are already faced with risks from different types of development.
As we work to build out renewable energy at the scale and pace that climate science demands, how serious is it that we understand and can measure the impacts of new renewable energy infrastructure, especially solar and wind, on wildlife?
Jessica Eckdish: In order to meet our goal of achieving net zero emissions economy-wide by 2050, rapid deployment of clean energy and associated infrastructure will be necessary. At the same time, we must ensure we are doing so in a way that maximizes benefits for workers, communities, and the environment.
For example, offshore wind energy is critical to meet our nation's climate goals. But it has to be done right, in a way that lifts up the working class with family-sustaining union jobs, delivers benefits for communities that are hardest hit by climate change and economic inequality, and protects wildlife, critical habitat, and our nation's natural resources. Clean energy can and must be developed responsibly, in a way that protects both communities and biodiversity—which is our strongest natural defense against climate change. Responsible development means that wildlife, marine ecosystems, and frontline communities are protected by avoiding, minimizing, mitigating, and monitoring environmental impacts by utilizing adaptive management strategies and the best available science and data. It also means that development must avoid sensitive habitat areas and utilize the best available technology to protect wildlife throughout each stage of the development process while monitoring wildlife and habitat before, during, and after construction.
To effectively understand and measure the impacts of clean energy development on communities, wildlife, and the environment, it's also essential that projects are guided by robust and inclusive stakeholder engagement, including labor organizations, consultation with Tribal nations, historically underrepresented or disadvantaged communities, low wealth communities, communities of color, and impacted ocean users. Legally binding Community Benefit Agreements are a proven tool for mitigating impacts and clearly define and ensure benefits of the project are reaped by workers and the communities in which these projects are located.
Certrec Sentinel: The U.S. energy sector is on President Biden's list of priorities. Among other things, the Biden Administration is focusing on creating well-paying jobs, building modern and sustainable infrastructure, delivering a clean energy future that is equitable, and putting America on a path to achieving net-zero emissions, no later than 2050.
Government and corporate collaboration have become the key to achieving these goals. In the recent past, Congress has passed the Bipartisan Infrastructure Law (Infrastructure and Jobs Act). The White House has called this "a once-in-a-generation investment in our nation's infrastructure and competitiveness."
In your opinion, does the United States have an aggressive strategy to reduce emissions, build sound infrastructure, jobs, and community resilience?
Jessica Eckdish: The transformational power of the Inflation Reduction Act cannot be overstated. This legislation—passed by Senate and House Democrats and signed into law by President Joe Biden on August 16, 2022—will revitalize U.S. manufacturing, grow clean energy, and support and create good union jobs across the country. It will tackle climate change by reducing emissions up to 42% by 2030 and create the good-paying, union jobs we need to give all workers the opportunity for a middle-class life. The Inflation Reduction Act demonstrates that we can have both good jobs and a clean environment.
The Inflation Reduction Act will:
Grow clean energy and drastically reduce emissions while creating high-quality jobs in the clean economy through proven standards that lift up job quality;
Make historic investments to expand clean energy and electric vehicle (EV) manufacturing;
Transform the industrial sector to reduce emissions and build our own supply chains for vital technologies;
Accelerate clean vehicle deployment and a whole-of-government approach to address this source of greenhouse gas and health-harming emissions, while also creating and preserving good union jobs, supporting and growing a domestic supply chain for vehicle components and technologies, and improving mobility and air quality in our neighborhoods;
Establish a host of critical investments in clean energy infrastructure, transmission, energy efficient homes and buildings, affordable housing, and resilient and healthy communities; and
Sustain and expand high-quality jobs to workers and in communities that need them the most, including low-income workers and workers living in communities that have been hit hard by energy transition or job outsourcing.
An analysis from the Political Economy Research Institute (PERI) at the University of Massachusetts Amherst commissioned by the BlueGreen Alliance found the more than 100 climate, energy, and environmental investments in the Inflation Reduction Act will create more than 9 million jobs over the next decade—an average of nearly 1 million jobs each year.
This law represents a game-changing investment in the nation's economy. Coupled with the Bipartisan Infrastructure Law, it will make our nation and economy stronger, cleaner, and more just. The robust investments included in this package will support and create good union jobs, help fight inflation, lower healthcare and energy costs, reinvest in domestic manufacturing, build secure supply chains, and make our economy less dependent on volatile global prices. At the same time, it will take bold action to confront the climate crisis, invest in economic and racial justice programs, support clean air and water, and power our nation for generations to come.
These investments will be transformative, but they are certainly not the end of what is needed to achieve our long-term goals. Several critical policy priorities were left out of the final version of the legislation. Further action will be needed, including to ensure that workers impacted by the transition are kept whole.
See our User Guide for more info: https://www.bluegreenalliance.org/site/a-user-guide-to-the-inflation-reduction-act/
Please provide a Pro Tip to our readers with respect to the future of the energy sector and the environment.
Tip: The future of energy in America and the future of our environment must both be clean. By advocating for and supporting clean energy policies and initiatives, we can all contribute to a more sustainable and prosperous future for ourselves and future generations. If folks want to stay informed and educated on just how we are supporting these efforts I invite everyone to check out the BlueGreen Alliance Resource Center. The Resource Center provides a wealth of information on policies, technologies, and best practices for transitioning to a clean energy future while creating quality jobs.