Certrec Completes Electronic Production of 100th Major Licensing Submittal to the NRC
Certrec's unparalleled ability to manage and produce major electronic licensing submittals continues to save nuclear clients time, labor, and money.

FORT WORTH, Texas, October 31, 2023 — Certrec, a leading provider of regulatory compliance and advanced SaaS applications for the energy industry, has recently completed its 100th major licensing document project, produced on behalf of clients, for submittal to the Nuclear Regulatory Commission (NRC). Certrec's electronic document management services are continuing to support the nuclear industry by saving time and money, and by reducing the amount of labor used in-house to create complex licensing documentation.
Clients recognize that the development and management of licensing document submittals can be time-consuming and can require a level of expertise that may not exist internally. Major Licensing submittals, such as COLAs (Combined Operating License Applications), DCDs (Design Certification Documents), CPAs (Construction Permit Applications), OLAs (Operating License Applications), and UFSARs (Updated Final Safety Analysis Reports) present numerous challenges, including authoring, production, file control, and stringent electronic preparation of files for submission to the NRC.
"In 2007, we produced and submitted the first COLA to the NRC meeting the new electronic document standards.  Ninety-nine times since then our clients have relied on us to navigate the electronic document management and production process with absolute success upon submittal. I am very proud to see our electronic documents team reach this important milestone." Ted Enos, Certrec CEO.
Through Taxtix®, Certrec's SaaS workflow solution, company procedures and processes are electronically replicated. This provides positive controls for the document production stage, streamlines the review and approval process, and provides a single location for all project documentation. Certrec's electronic documents team works with each of our clients to process changes, review content, and create a comprehensive final product ready to send to the NRC.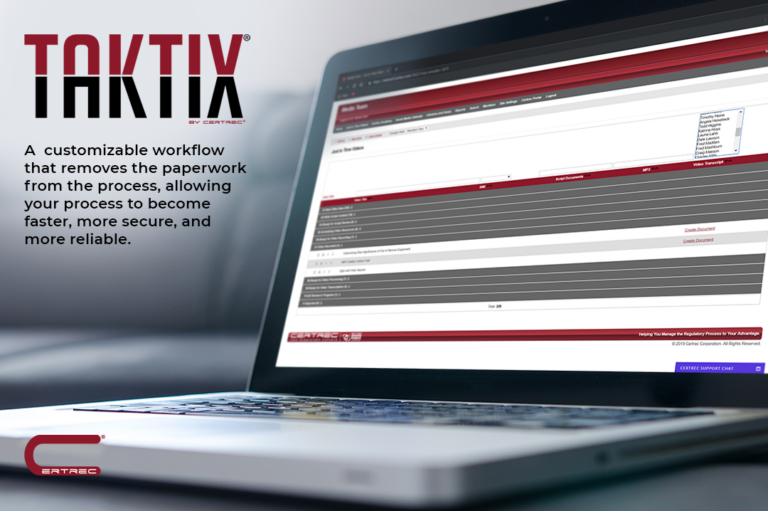 "With the advancement in technology and the need for efficient electronic document processing, our team has continued to grow in size and capability. Our team is very excited to be supporting both the operating fleet and many of the nuclear new build projects. We look forward to the next 100 submittals." Brett McLain, Certrec Electronic Documents Manager
To learn how Certrec can manage your nuclear power plant's licensing documentation, visit https://www.certrec.com/about/contact-us/.
About Certrec:
Certrec is a leading provider of regulatory compliance solutions for the energy industry with the mission of helping ensure a stable, reliable, bulk electric supply. Since 1988, Certrec's SaaS applications and consulting know-how have helped hundreds of power-generating facilities manage their regulatory compliance and reduce their risks.
Certrec's engineers and business teams bring a cumulative 1,500 years of working experience in regulatory areas of compliance, engineering, and operations, including nuclear, fossil, solar, wind facilities, and other Registered Entities generation and transmission.
Certrec has helped more than 120 generating facilities establish and maintain NERC Compliance Programs. We manage the entire NERC compliance program for 60+ registered entities in the US and Canada that trust us to decrease their regulatory and reputational risk. Certrec is ISO/IEC 27001:2022 certified and has successfully completed annual SOC 2 Type 2 examinations.
For press and media inquiries, please contact marketing@certrec.com.