Share Your Plant's Learning Needs: Shaping the Future of Nuclear Training
About
Join us for an interactive webinar where your insights matter. As employees retire from the nuclear industry, it is crucial that new employees are adequately trained to run the complex operations at nuclear plants. We invite you to contribute to the development of Certrec Academy's tailored training solutions for the nuclear industry. Certrec's Director of Nuclear Licensing Services, Joey Clark, will engage with you questions and training requirements.  Your valuable input will ensure Certrec Academy can meet your plant's training needs.
Reserve your spot today and make your voice heard in driving positive change in the industry.
When
Tuesday, June 13, 2023 – 11:00 to 11:40 AM Central Time

Joey Clark

Director of Nuclear Licensing Services - Certrec
Joey has over 30 years of nuclear experience, including the areas of operations, licensing, and training. He also has experience in 10 CFR 50.59 and 10 CFR 72.48 compliance.

Joey's experience in regulatory affairs and operations ranges from initial start-up testing activities, initial fuel loading, operations training, and operations shift management. As a Regulatory Affairs manager, Joey was responsible for ensuring compliance with all federal, state, and local regulatory requirements associated with operating a power plant.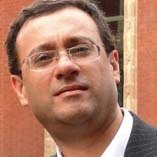 Fas Mosleh

Alliances, Strategic Marketing - Certrec
Fas is responsible for business growth (alliances, strategic marketing and business development) at Certrec, a SaaS and technology solutions provider for the energy industry.

He developed business strategy and products at IBM, Hewlett-Packard, Agilent Technologies, Micron, Kodak, Avago Technologies (Broadcom) with operational experience in cloud software, information security, enterprise IT infrastructure, imaging, and smartphone electronics.

Fas has managed corporate venture funding, M&A, and IP acquisitions and has been an executive at several technology ventures in cybersecurity, cloud computing, and intellectual property licensing. Fas' team developed the first slow-motion camera for iPhones and the first front-facing cameras for smartphones, making selfies possible.

Fas graduated with a Bachelor's in Physics, and Math from Imperial College, University of London, and a Master's in EE from Durham University and is an Associate of the Royal College of Science.