Certrec Releases Free NERC CIP Health Check Tool for NERC Registered Entities
Certrec has developed an online tool to help NERC entities gauge compliance with NERC CIP standards in just a few minutes.


FORT WORTH, Texas, September 20, 2022 — Certrec, a leading provider for NERC regulatory compliance and advanced, online solutions announced the release of Certrec's NERC CIP Health Check Tool. This free online tool grades an energy company's NERC CIP status and helps them pinpoint what needs improvement.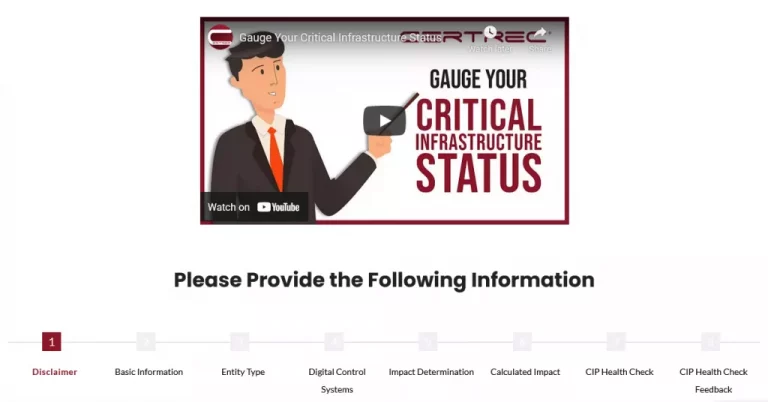 With the Certrec NERC CIP Health Check Tool, companies can gauge their security measures in just 15 minutes. This tool is a first of its kind in the energy regulatory compliance industry. The NERC CIP Health Check determines what level of risk an entity poses to the grid, analyzes 50+ measures of NERC CIP standards requirements, then grades the business on an A, B, C, or F (70-100 scale). Performance grades are:
90% = A
80%+ = B
70%+ = C
<70% = F
Once the health check is completed, Certrec's NERC CIP team is available at no cost for up to 30 minutes to answer questions about the test results. This includes NERC compliance tips and actions to improve your grade. Certrec's NERC CIP Health Check Tool is a sophisticated instrument, evaluating 50+ measures that help companies evaluate themselves on questions that every NERC registered entity should ask:
How well is my utility complying with NERC CIP requirements? (Compliance)
Is my entity complying with updated requirements for NERC CIP? (Compliance)
How effectively are we using our team and technology to support our NERC CIP? (Effectiveness)
Are there specific gaps in our NERC CIP protection that we must address? (Effectiveness)
What are the strong points and shortcomings in our NERC CIP Compliance? (Overall Analysis)
The professional services NERC entities typically hire to monitor their physical and cybersecurity measures are often time intensive and expensive to contract. Certrec's Health Check Tool allows energy providers to understand quickly what their risks are while saving time, preventing fines, and ensuring the Bulk Electric System is protected for the general public's use.
Brock John, Director of Operations at Bear Mountain Wind, asserted, "In these times of increasing cyberattacks, weather anomalies, and supply chain disruptions, protecting a plant's infrastructure is more important than ever. Certrec's NERC CIP expertise saved us time and helped identify and address potential gaps."
Disclaimer
The NERC CIP Health Check by Certrec Corporation is designed to be but one of many ways a NERC registered entity may determine approximately their relative (subjective) score. This Health Check is not meant to be a formal determination of an entity's NERC CIP assessment. This is an indicative tool that assigns a score based on answers to the questions provided using the judgment of Certrec's professionals and other criteria. This Health Check assumes you are minimally familiar with NERC CIP standards, procedures, and terminology.
About Certrec:
Certrec is a leading provider of regulatory compliance solutions for the energy industry with the mission of helping ensure a stable, reliable, bulk electric supply. Since 1988, Certrec's SaaS applications and consulting know-how have helped hundreds of power-generating facilities manage their regulatory compliance and reduce their risks. Certrec's engineers and business teams bring a cumulative 1,500 years of working experience in regulatory areas of compliance, engineering, and operations, including nuclear, fossil, solar, wind facilities, and other Registered Entities generation and transmission.
Certrec has helped more than 120 generating facilities establish and maintain NERC Compliance Programs. We manage the entire NERC compliance program for 60+ registered entities in the US and Canada that trust us to decrease their regulatory and reputational risk. Certrec is ISO/IEC 27001:2022 certified and has successfully completed a SOC 2 Type 2 examination.
For press and media inquiries, please contact marketing@certrec.com.