CIOReview Recognizes Certrec as One of the Most Promising 2022 Compliance Technology Solutions Providers
CIOReview has awarded Certrec and profiled its Executive Director of Operations, Michelle Thomas, in the upcoming 2022 compliance edition



FORT WORTH, Texas, September 29, 2022 — Certrec is a leading provider for NERC regulatory compliance and advanced SaaS applications. Certrec is honored to announce that the company and its Executive Director of Operations, Michelle Thomas, will be profiled in the upcoming 2022 Compliance Edition of CIOReview. CIOReview has also recognized Certrec as a Twenty Most Promising Compliance Technology Solutions Provider in 2022.
For Certrec, 2022 has been a year of accomplishing industry firsts such as the release of Certrec's NERC CIP Heath Check and Certrec's CORE compliance consulting services, now available online via e-commerce. The CIOReview award is recognition for Certrec's innovative manner of providing regulatory and technology solutions to the energy industry.
"We believe Certrec, with their innovative technology solutions are the most committed to our national power grid's security and ongoing success" said Justin Smith, Managing Editor of CIOReview "I congratulate Certrec for achieving this recognition among the list of "20 Most Promising Compliance Technology Solution Providers 2022."
Examples of innovation include: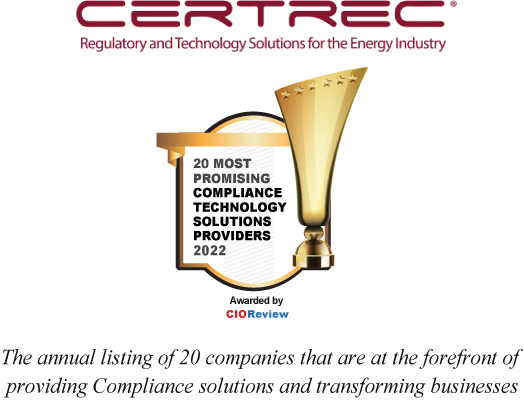 Certrec is dedicated to helping protect the North American power Grid.
Today, power plants are facing new kinds of risks. In the United States, there is increasingly turbulent weather, as well as criminal and international cyber security threats. With these in mind, Certrec works to enhance NERC CIP and cybersecurity solutions for power plants to diminish such threats.
Certrec's team comprises engineers and business professionals with extensive experience in regulatory compliance, engineering, and licensing in nuclear, fossil, solar, wind, and other generation and transmission facilities. They have worked in real power plants, and they bring operational and compliance know-how as consultants. This expertise has led to effective, low-risk, and trusted[1] compliance programs.
CIOReview features insights from leaders in the tech industry. This magazine covers important trends and help platform exciting innovators in tech. To read more, look forward to this editorial later this year at CIOReview.
About Certrec:
Certrec is a leading provider of regulatory compliance solutions for the energy industry with the mission of helping ensure a stable, reliable, bulk electric supply. Since 1988, Certrec's SaaS applications and consulting know-how have helped hundreds of power-generating facilities manage their regulatory compliance and reduce their risks.
Certrec's engineers and business teams bring a cumulative 1,500 years of working experience in regulatory areas of compliance, engineering, and operations, including nuclear, fossil, solar, wind facilities, and other Registered Entities generation and transmission.
Certrec has helped more than 120 generating facilities establish and maintain NERC Compliance Programs. We manage the entire NERC compliance program for 60+ registered entities in the US and Canada that trust us to decrease their regulatory and reputational risk. Certrec is ISO/IEC 27001:2022 certified and has successfully completed annual SOC 2 Type 2 examinations.
For press and media inquiries, please contact marketing@certrec.com.
About CIOReview
CIOReview is a leading technology magazine that is at the forefront of guiding enterprises through the continuously varying business environment with information about solutions and services. The magazine serves as a trustworthy knowledge source as well as a platform for C-suite executives, industry experts, technology buyers, and other decision-makers to share their valuable insights about new technology trends in the market. –  For more info, visit: https://www.cioreview.com/
[1] Since 2015, out of 300 Certrec NERC clients, zero received fines.